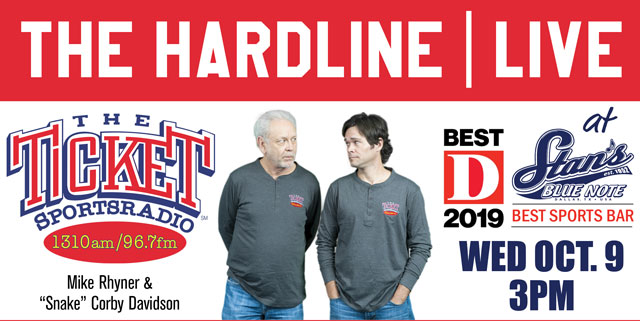 1310 The Ticket is LIVE at Stan's Wednesday, October 9th!
Mike Rhyner and "Snake" Corby Davidson will broadcast their show The Hardline beginning at 3pm. They tout their show as "the four most controversial, hard-hitting, in-your-face, must-hear hours of radio to be found anywhere in Dallas-Ft. Worth. They tell it like it is, and they tell it to your face." DON'T MISS IT!
There will be GIVEAWAYS including a Coors Light Yeti Cooler and 2 tickets to the TX/OU game.
Stan's will open an hour early for the broadcast. Voted best sports bar in 2019 by D Magazine and Best Place to Watch a Game by The Lakewood Advocate, Stan's is all about sports – and sports radio!
Happy Hour 3-7pm
½ price food during HH
Crown and down after 7pm