Super Bowl watch party at Stan's Blue Note
The Big Game on our big screens!
There's no better place to catch Super Bowl action than the best sports bar in Dallas.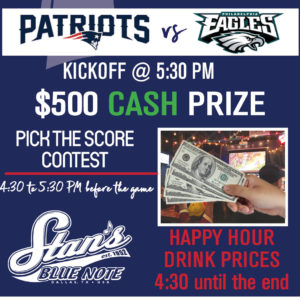 We'll have a pre-game party on Saturday 6 p.m. to 8 p.m. with a FREE build-your-own taco bar and Happy Hour drink prices. Then on Super Bowl
Sunday, we'll have the Big Game on our BIG screen, a $500 cash prize Pick the Score Contest , and a FREE buffet from 4:30 to 6 p.m.
Happy Hour from 4:30 until the end of The Big Game.
$1 off all drafts and bottles
$4 wells
$5 calls
Pick the Score Contest with a $500 Grand Prize!
Here are the rules Pick the Score Contest with a $500 Grand Prize:
Entry is from 4:30 to 5:30 p.m. ends at kick off.
You must use your full name to collect a prize.
You must pick the exact final score for each team.
You must be present for the whole game to win.
If contestants tie, the prize money will be divided proportionally.
Copies of all picks will be made at game time for guests to view while they watch.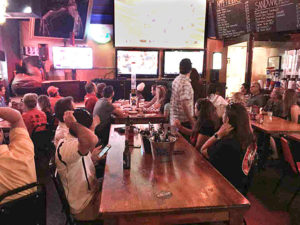 Watch the Super Bowl with us and you can snack on FREE food, guess the final score for a chance to win $500, and cheer on your favorite team on our huge screen.
Stan's Blue Note is located at 2908 Greenville Ave, Dallas, TX 75206. Here you'll find more than 30 big screen TVs tuned in to non-stop sports action, a pool table, shuffleboard, dartboards, karaoke, trivia contests, music, and two outdoor patios.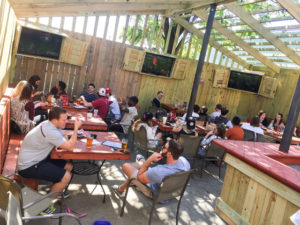 Known as Dallas' oldest, continuously operated drinking establishment, Stan's has stayed true to tradition since its original owner, blues player E.E. Stanley, opened the joint in 1952 – but new owners Mike McRae and Gabe Nicolella have updated the menu with made-from-scratch items, and renovated the back patio with an arbor and outdoor TVs.  Stan's continues to be a haven for sports fans, college games, alumni groups, and special events like our Super Bowl Watch Party.